EXHIBITION


The "Mushroom" look, or the Titanic era
Mode et fantaisies au château d'Ussé
1910 -1914
Luxuriousness and extravagance …
Access to a wealth of gorgeous fabrics, lace, ribbons, pearls and a quest for extreme attention to detail acted as a never ending source of inspiration during this pre-war period.
There were "Lampshade dresses" with hoops of fur floating around the hips, outfits that effortlessly mixed classical and oriental styles and huge, spectacular hats that gave women that mushroom look…
The inventiveness of these outfits is fascinating. This exuberance and audacity, so ahead of its time, remains a source of inspiration for present day haute couture.
Lightness of touch was the key. Since 1870, France had been enjoying a period of prosperity and this was reflected in the frivolous nature of contemporary fashion. Paris was the hub of western design and with couturiers such as Doucet, Décroll, Worth, Paquin or the Callot Sisters, joyful, colourful and theatrical creations became the norm.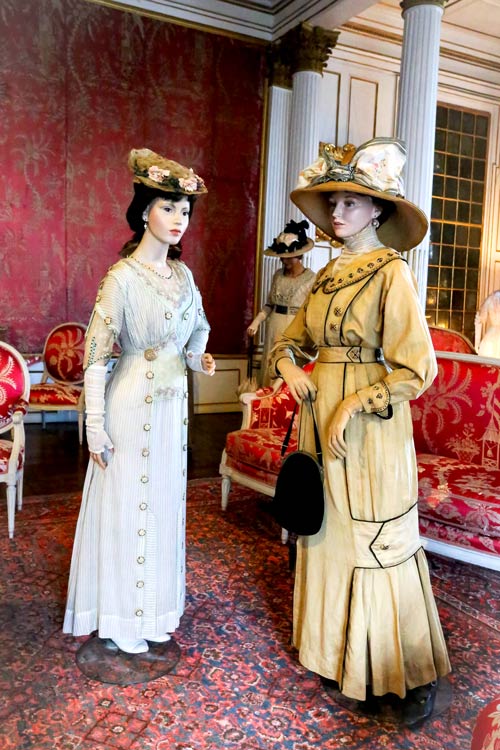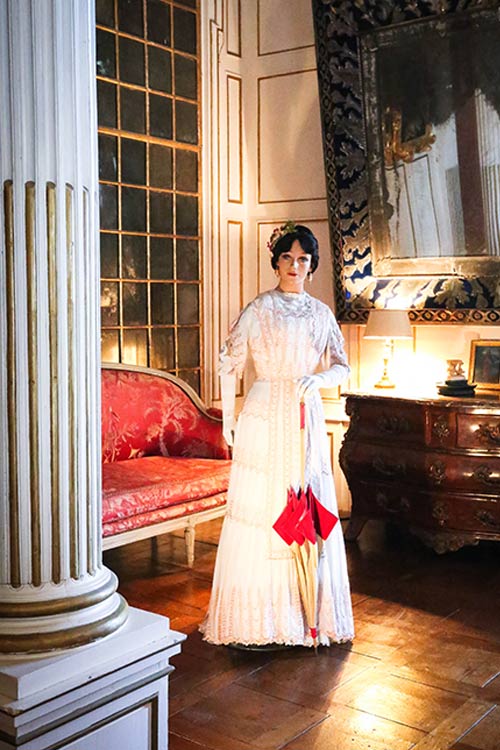 Period of great creativity : 1910 – 1914
During this period fashion evolved, slowly liberating women's bodies. The designer Paul Poiret got rid of the corset. He opened his Parisian salon in 1903 and in collaboration with the house of Paquin, re-introduced the "Empire Line", designing wonderfully fluid dresses to create a new female form. Dresses were high waisted, just under the bust, and material flowed to the floor in light folds. Whale bone disappeared to be replaced by a more flexible tube shaped corset that supported the hips and liberated the bust.
Then there were the oriental outfits created by Léon Bakst for the Russian Ballet that swept the town up in a wave of exoticism. Poiret, who was inspired by oriental dress and the colours of Fauvism, adopted a bold theatrical style: loose fitting tunics, harem pants, kimonos, turbans, long feathers as head decorations etc.
War, however, would put and an end to this rampant creativity. Its like would not be seen again until the dawn of the "Roaring Twenties".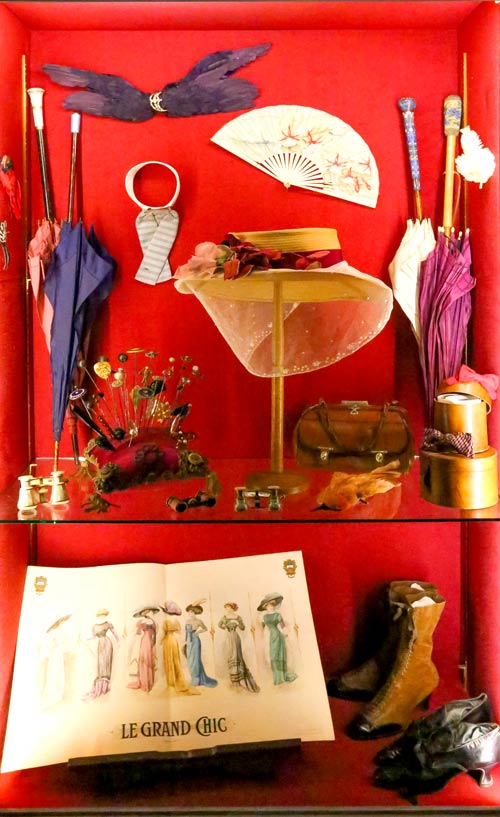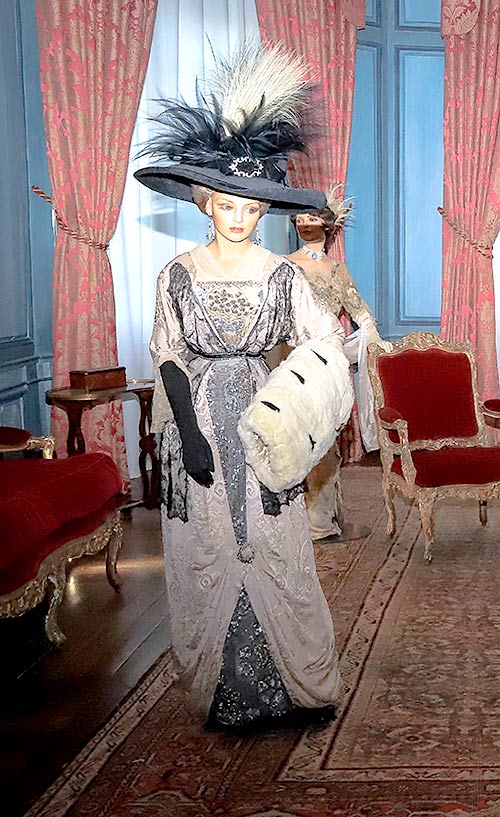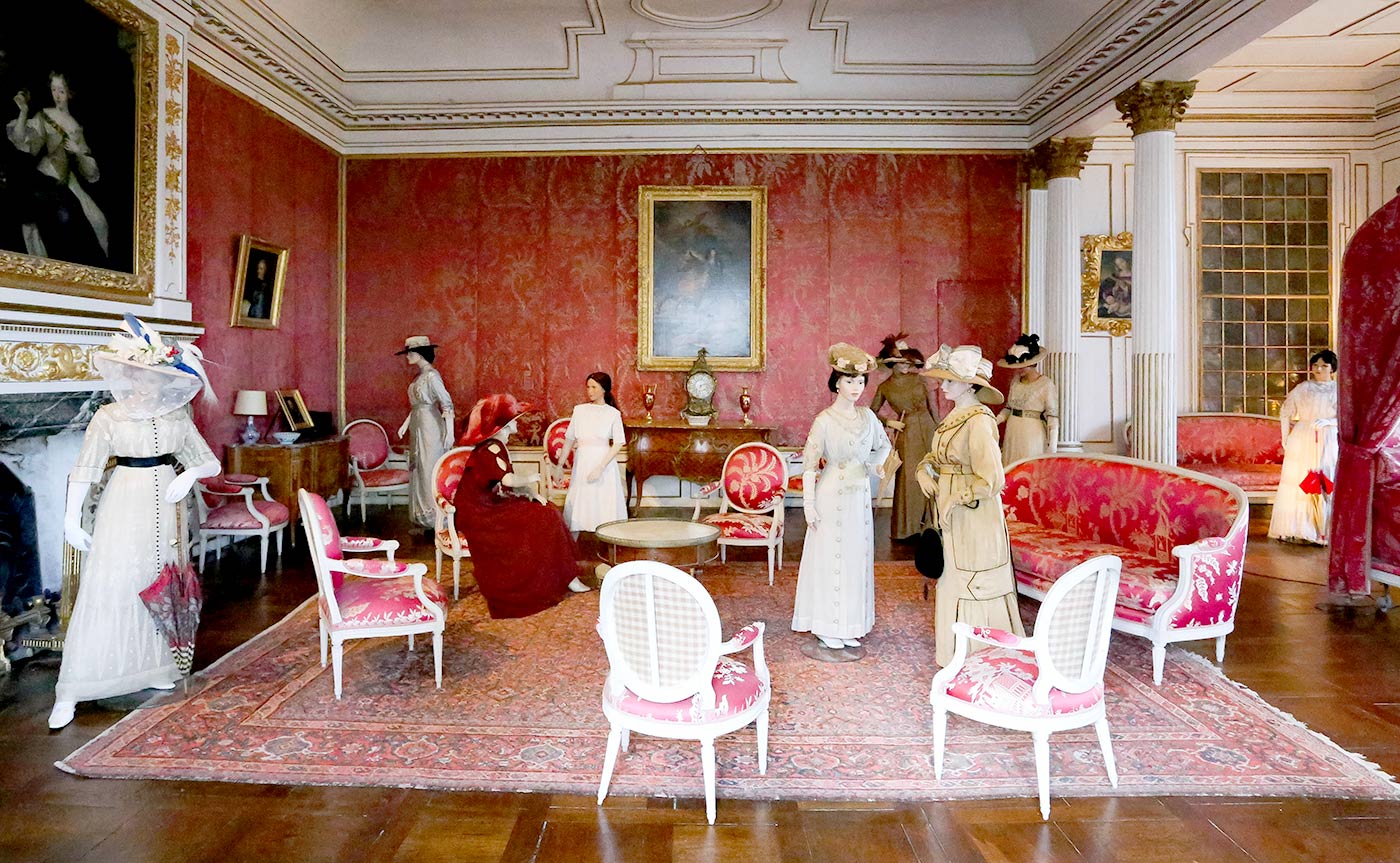 Exhibition mounted by Mr Thierry Grassat, photos Ⓒ Alexandra Caban
Do not miss during your visit
doubleusolutions
2020-02-04T15:42:07+01:00
The Blacas family warmly welcome you to the Château d'Ussé.
doubleusolutions
2020-02-04T17:55:29+01:00
D'une place forte au Moyen âge à un château raffiné de la Renaissance.
doubleusolutions
2020-02-04T16:04:15+01:00
Sur le chemin de ronde, retrouvez les scènes de la Belle au Bois Dormant.